Have Bell - Will Travel
Town Crier for all occasions- Promotion of new business ventures large or small. Opening of Shopping malls, Shows, Homecomings and Fetes.
Special cries composed for any event to suit your individual requirements.
Michael is a Traditional Town Crier offering the charm, service and good manners of yesteryear with true professionalism.
He draws from a lifetime's experience, starting as a volunteer in the Household Cavalry, and has also been the Macebearer to the City of Gloucester Mayor's officer, Sergeant-at-Mace and Borough Crier to the Metropolitan Borough of Sandwell in the West Midlands.
Since taking early retirement from Local Government, he has been engaged at such prestigious events as The Royal Hertford Show, The Three Counties Show and the Sandwell Show, as well as promotional work for Tesco, the National Blood Transfusion Service, Barclays Bank plc, Woolworths, and Marks & Spencer Simply Food.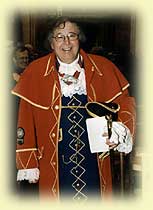 New Uniform for Summer 2001
In late 2000 Tewkesbury Town Council decided to purchase a new uniform for the Town Crier to be supplied by the well-known bespoke tailors Michaels of Bristol.


Master tailor Ray Charlton duly took measurements and made sketches based on his conversations with Michael and Linda Kean-Price, resulting in what has been described as 'a most excellent and suitable uniform' by The Town Council.

Michael has already worn it on such prestigious occasions as the celebration of The Glorious Glosters both on March 21st and April 23rd, and at Town Crying competitions in Alcester (14th April), Bromyard (5th May) and Warwick (12th May). It also drew admiring comments from the many people who lined the route of Woodmancote's 19th May Day celebrations on 7th May.
Since his official appointment as Town Crier to the Ancient Town of Tewkesbury in the Cotswold County of Gloucestershire in 1998, Michael has become involved with the Battle of Tewkesbury (1471) Re-enactment group - The Companions of the Black Bear and has appeared since the 2000 re-enactment as their herald.
Tewkesbury Mop Fayre 2002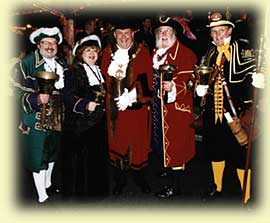 (left to right) Allan Bills - City of Bristol, Madeleine Bills - Mangotsfield, Cllr. Chris Smith - Tewkesbury's Borough Mayor, Mike - before dewhiskering, John Sweetman - City of Truro.
Michael is a collector of folk songs and tales, and has also visited schools as a storyteller of these together with his own stories and poems.
He is also a much sought after guest speaker for Rotary and Roundtable Clubs, W.I. and R.B.L. where he talks about his role as a Town Crier, together with details of Civic Events and customs from the Rich tapestry of English Civic History.
Michael is also the British and Court Correspondent for 'The Town Crier' newspaper of Tewksbury, Massachusetts.
Michael has been instrumental in establishing links with Tewksbury, New Jersey whose Mayor Dianne Clarke-Kudless will be visiting Tewkesbury in April 2003.
Michael David Kean-Price uniquely offers the best of Olde Englande as a Town Crier, tempered with an acute awareness of the marketing and promotional needs of today's national and international business community.
If you would like to contact Michael, please use the form below: